The unicorn-making tech market of Central Europe shows no signs of slowing as we enter the third year in the battle against Covid. However, with 58% of people employed in the tech industry saying they don't find their work meaningful, we are seeing an evolving trend to make good tech – "good" tech.
Deep industry pockets
Over the past 10 years, the tech startup industry of Central Europe has exploded, saturating the market with the growth of 34 unicorn brands such as Avast, Vinted, Inpost, and many others. A new report by Google for Startups tells us that the total value of the region's lucrative tech market is projected to reach an all time high this year, at more than €186B. With such lucrative funds at their disposal and amazing teams of tech geniuses, more and more companies are finding it within their budget to dedicate time and resources to socially responsible causes.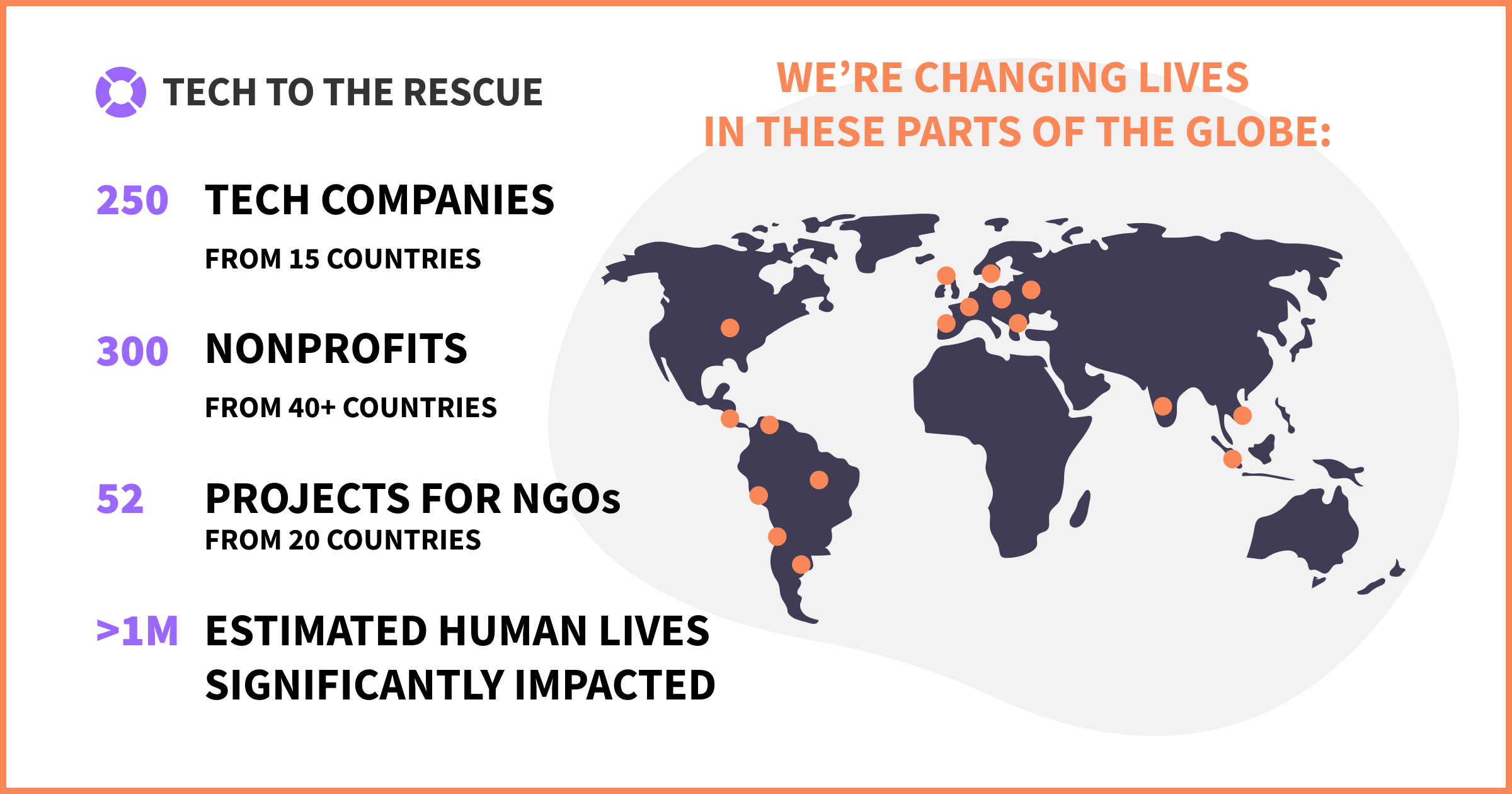 Evolving societal mentalities
While it is true that Central Europe has never been known for the musketeer attitude of "all for one and one for all", a recent study by Dr Cevat Giray Aksoy, on behalf of King's College London, shows us that bonds between European countries have undoubtedly been strengthened as a result of the pandemic. A heightened sense of communal altruism and reciprocity is being generated – countries with strong boundary lines are coming together for what feels like the first time to assist local and neighboring communities.
A reciprocal benefits package
In recent years, employers are noticing a push to offer something special in their hiring package, like the opportunity to work on external "for good" projects. A 2020 survey from Olivet Nazarene University found that 50% of youth soon to enter the job market said they would take less money to do more meaningful work and 68% said they would work longer hours to achieve the same goal. That is why leading tech companies like RTB House (PL), Softserve (UKR), Intive (DE) as well as many more are making a commitment to offer a minimum of one project a year in the Tech for Good initiative.
Aga Karpińska, Head of People at Divante, calls the commitment "an important ingredient in the cultural glue that is supposed to connect employees scattered in multiple locations. Engagement in social projects emphasizes our committed identity". The perk of generating an internally and externally dynamic company culture is proving to be an invaluable company asset.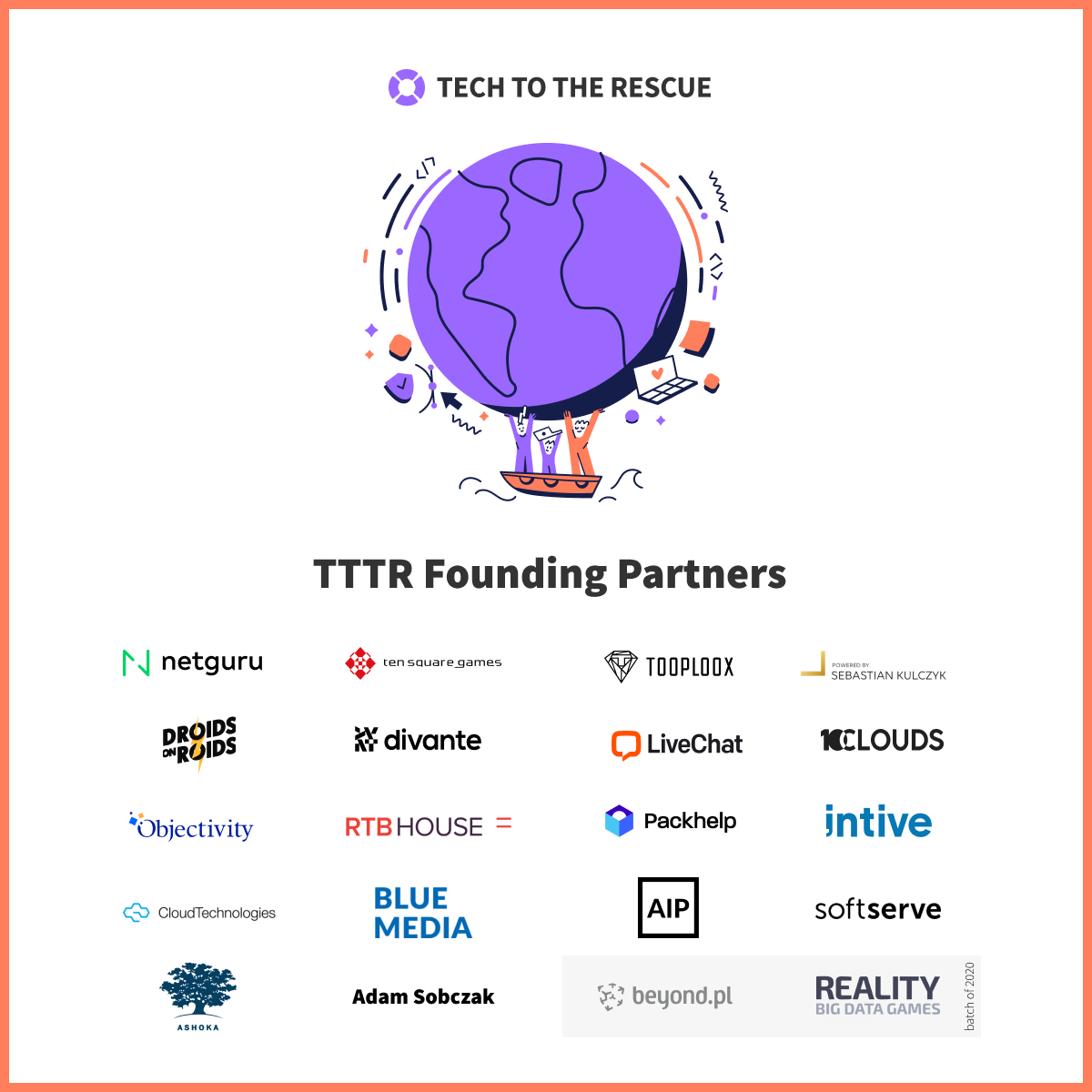 It takes a village
Many independent "for good" tech initiatives have popped up as the world has watched Covid push the social fabric to the brink. Though the required internal resources to support project selection and coordination are reducing the available time and funding of companies with even the most lucrative of budgets. The need to make altruistic engagement efficient creates a market opportunity for social good startups like Tech To The Rescue, which matches tech companies with nonprofit organizations in 12 countries. The platform, born in the Covid pandemic, is now 250 tech companies strong and recently secured its seed funding to scale up globally.
Both smaller and bigger organizations value the possibility to quickly find a high-impact project and collaborate on it with other companies. Karolina Długosz, Sustainability Lead at Netguru, certified B Corp digital consultancy says that, "We were developing a Tech for Good program at Netguru, but it required a lot of effort to do it well. Finding and selecting the best beneficiary (non profit), and then getting a project delivered required specific knowledge and a vast reach. As a result, a lot of people were involved, which hindered our results. Thanks to Tech To The Rescue our experts can focus on the core of the work, while TTTR takes care of the research, merit assessment and matching, making project delivery an achievable and enjoyable process."
What the future holds
Covid has marked a mere beginning for the innovative face of the Tech for Good movement. In a market with a surplus of money, powered by the common thread of desiring to seek meaningful impact, this next year promises to bring further expansion in the tech market, as well as limitless possibilities for socially conscious action.
For more information on the Tech to the Rescue initiative check out www.techtotherescue.org or contact Jacek – Managing Director of TTTR at media@techtotherescue.org
Підпишіться на e-mail розсилку Українського Спектру