2 million Ukrainians have fled the war as refugees, and many more are expected to follow. The long-term financial requirements of these displaced peoples will be significant.
However, Ukraine has a highly educated population, with a significant portion of the West's development work already being outsourced there. The $5bn IT industry includes 200,000 IT specialists and until now projected reaching 20,000 IT graduates per year by 2024.
A significant portion of refugees have valuable technical and other skills that could continue to generate them an income, provided that they have the infrastructure and network to maintain their previous levels of productivity.
It is the goal of RemoteUkraine.org to enable every skilled Ukrainian refugee to continue earning a living, irrespective of their current location.
Benefits
Empower Ukrainian refugees to continue to live in dignity and remain financially independent by using their valuable skills to earn a living.
Reduce the financial burdens of countries in hosting Ukrainian refugees.
Increase the positive perceptions of local communities hosting Ukrainian refugees.
Motivation
The platform is powered by TalentPools.io, whose CTO is Ukrainian. The suddenness of his plight during these first days of the war, and the severity of the situation his family and friends are still experiencing, has inspired our team to contribute however we can.
Statistics
Launched: one week ago | Job Categories: 20+ | Users: 2,000+ | Jobs: 500+
Method
RemoteUkraine.org provides an online job platform, connecting a network of supportive businesses looking to hire talent, with skilled Ukrainian refugees.
Refugees with relevant skills are invited to create a profile to showcase their skills, and the necessary details to establish their credentials and skill levels.
Initially, the focus was on technical remote work, but we have since broadened to include all job sectors and both remote and in-person roles.
The platform allows businesses to advertise job opportunities and match with suitable Ukrainian candidates. The candidate can then be invited into the business' standard hiring flow. Alternatively, the platform enable businesses to hire them online, project manage the contract, and then pay them, all within the same platform.
The platform operates as a not for profit organisation, working alongside other charitable organisations to provide a network of support to facilitate these overall goals.
FAQs
Cost. The platform is free.
VISAs. Most workers will have VISAs following the EU's 3 year VISA ruling. We also partner with organisations such as Tech Nation, which assist with the VISA application process.
Hiring. Candidates can be directed to your external website where you can hire them directly. If you wish, you can also use our platform to legally contract, manage and pay them.
Employer/Agent of Record. For guaranteed legal and tax compliance, you can use one of our EOR partners to contract and pay the candidates in their local country.
Ask
We invite organisations to post your job openings at RemoteUkraine.org. If you have any other suggestions or offers of support, we would love to set up a call to explore collaboration.
RemoteUkraine is partnered with TechFugees, a UK, US and EU registered charity.
For more information, please contact us at partner@remoteukraine.org
Refugee User Flow
Register

Search Jobs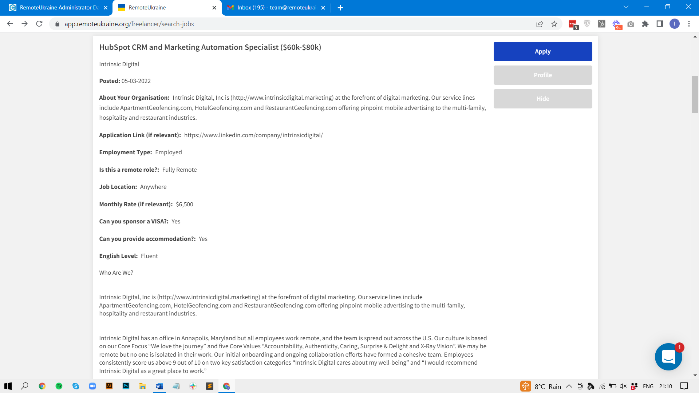 Create Profile

Apply for Job (within app, or external link)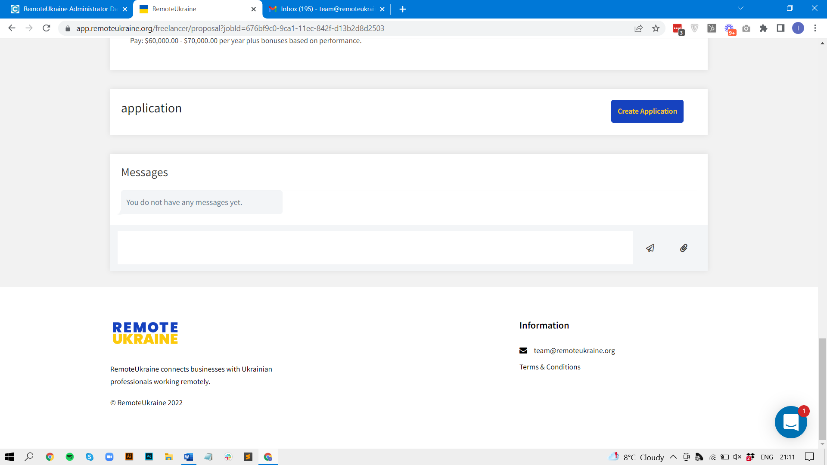 Employer User Flow
Register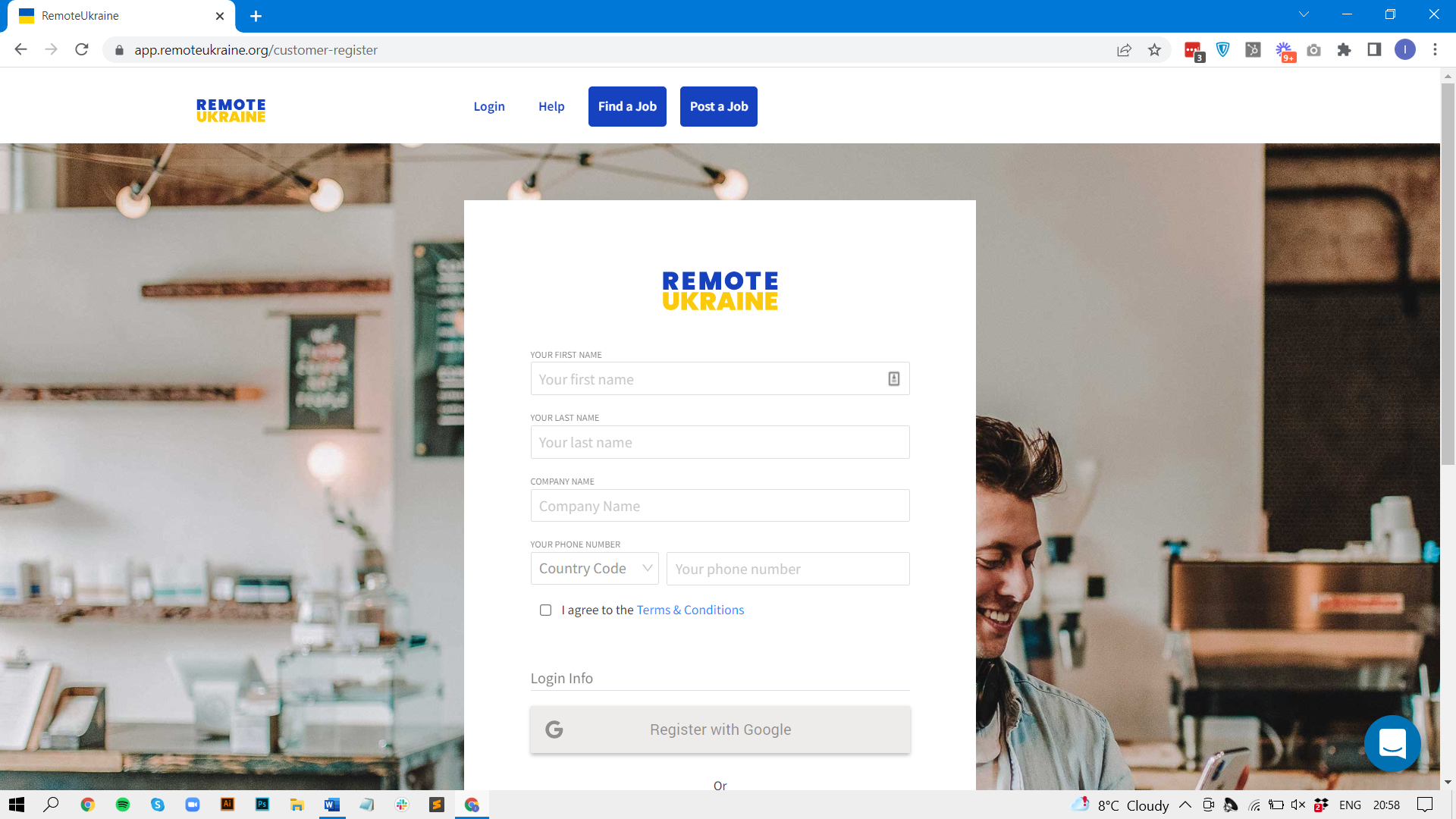 Review Candidates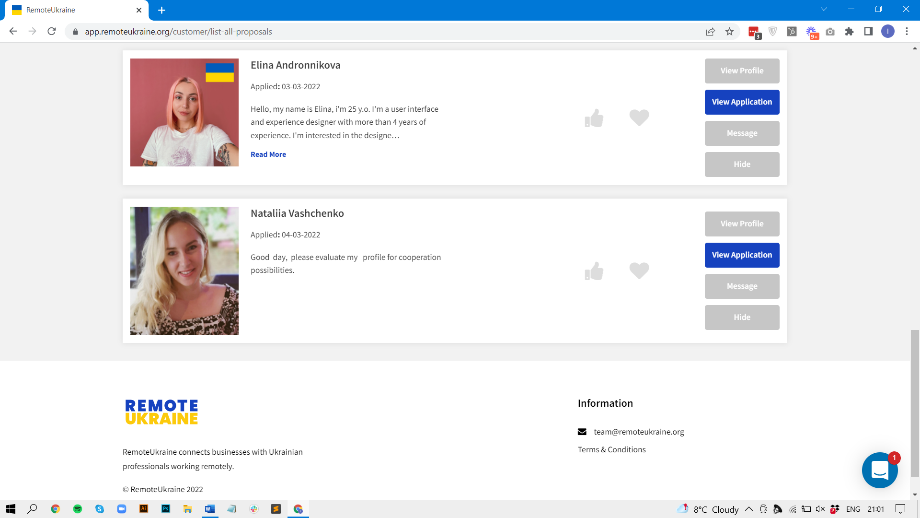 View Candidates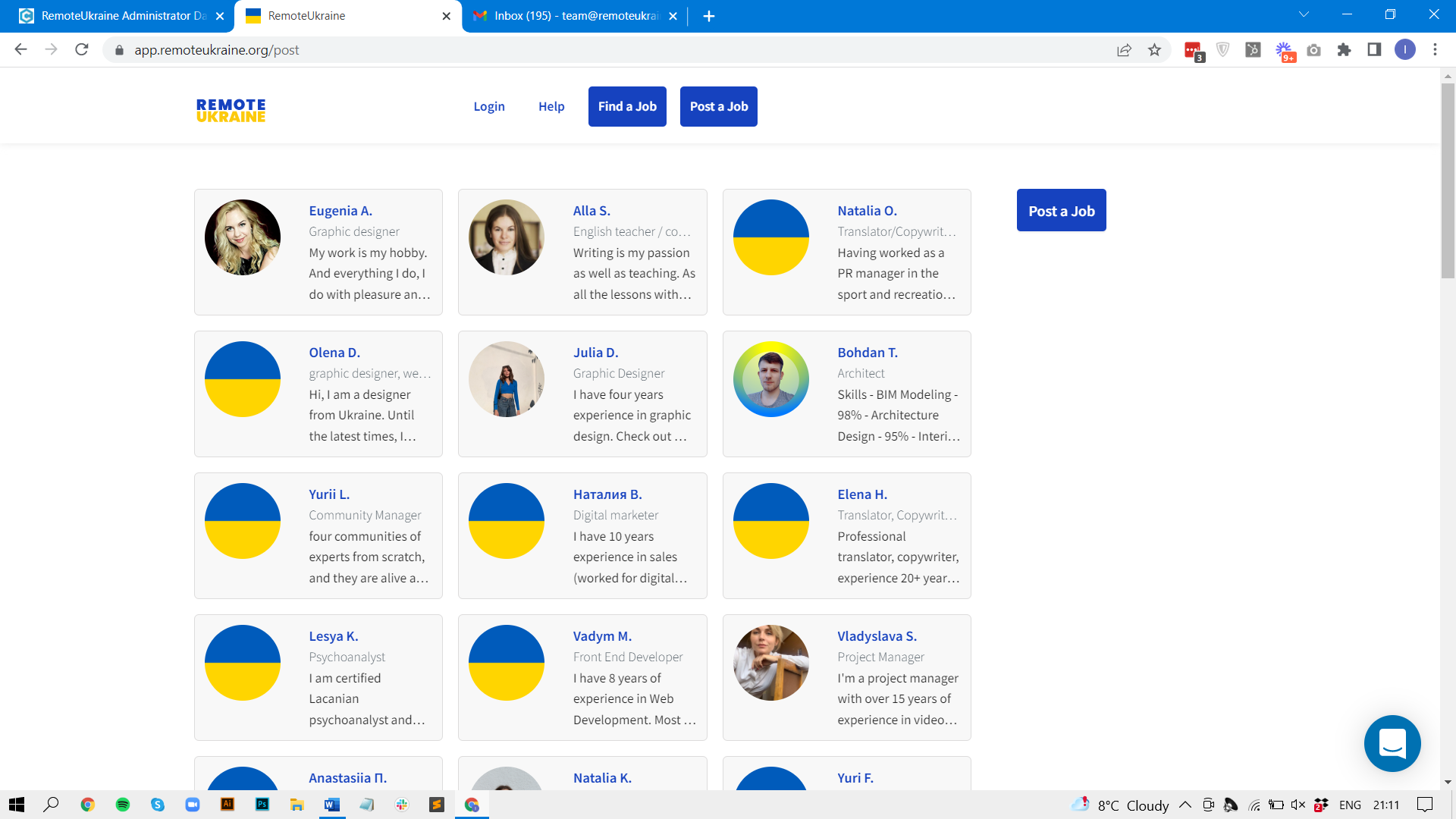 Review Candidate Profile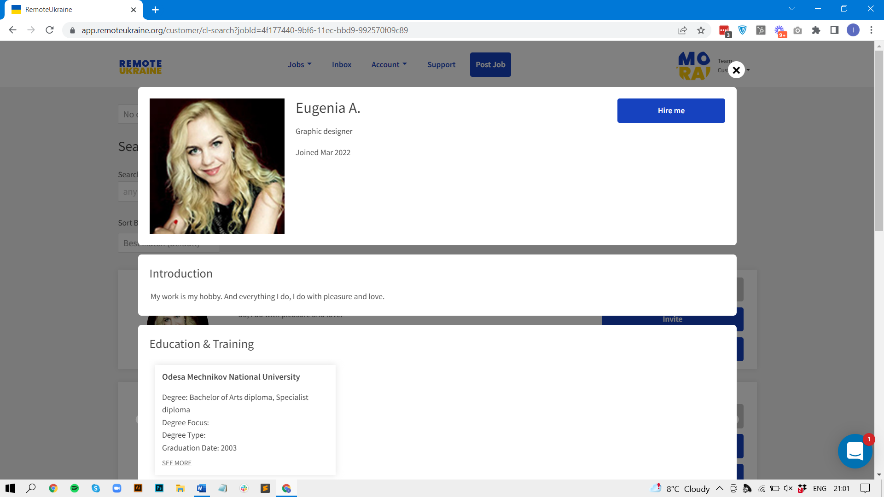 Post a Job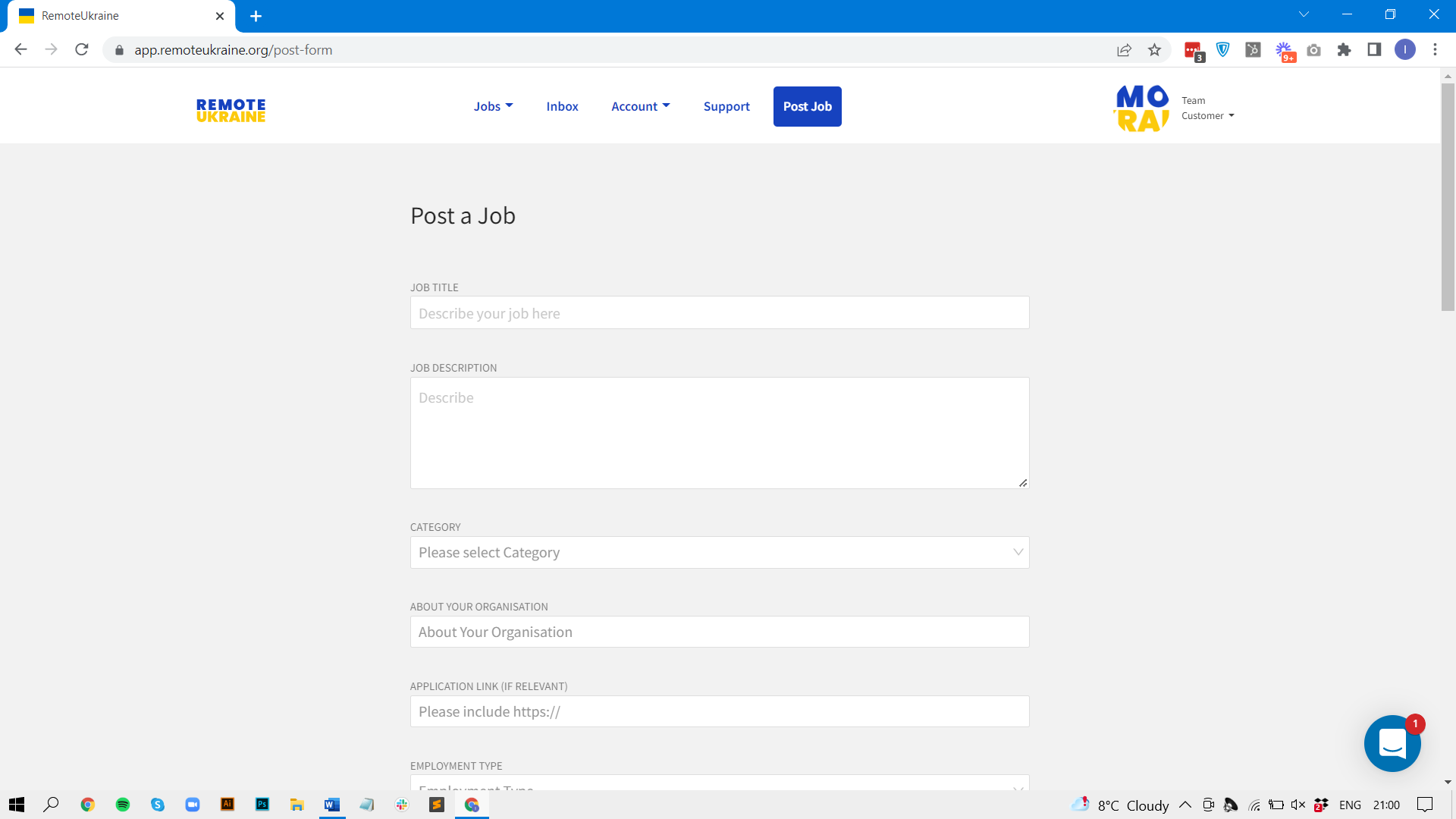 Review Candidate Application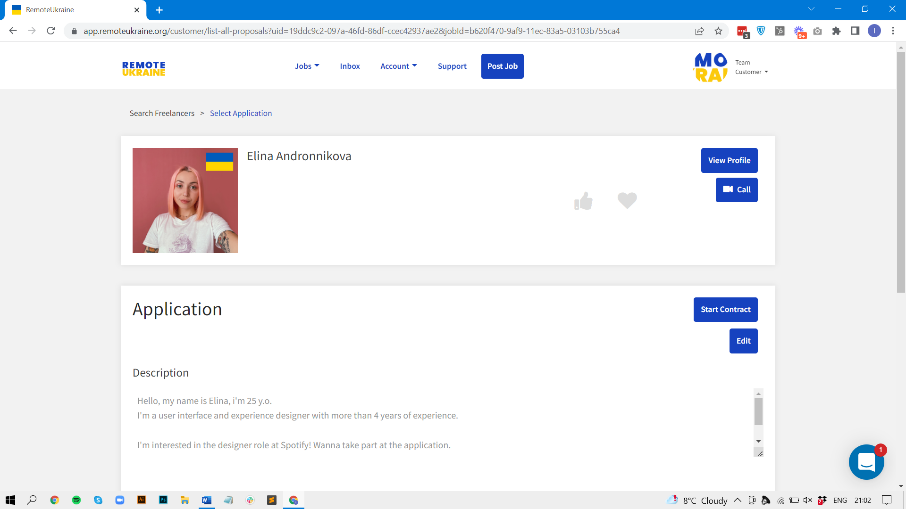 Filter and Match with Candidates
Підпишіться на e-mail розсилку Українського Спектру