Two Ukrainian defenders who had their arms amputated after landmine-explosive injuries will be fitted with Hero Arms, state-of-the-art bionic upper limb protheses, made by the leading British technology manufacturer Open Bionics. This was made possible thanks to the support of Mastercard – as the first step opening a strategic partnership with Superhumans. Three Ukrainian prosthetics have also received special training organized by the partners based on Open Bionics.
Hero Arms are custom-made, so there are some measurements and testing required before fitting the protheses. To undergo these procedures, the militaries went to Munich, along with engineers, as well as the Superhumans and Open Bionics teams. Later, when the Superhumans clinic in the city of Lviv (Ukraine) fully opens, all stages of the prosthetics will be performed in Ukraine.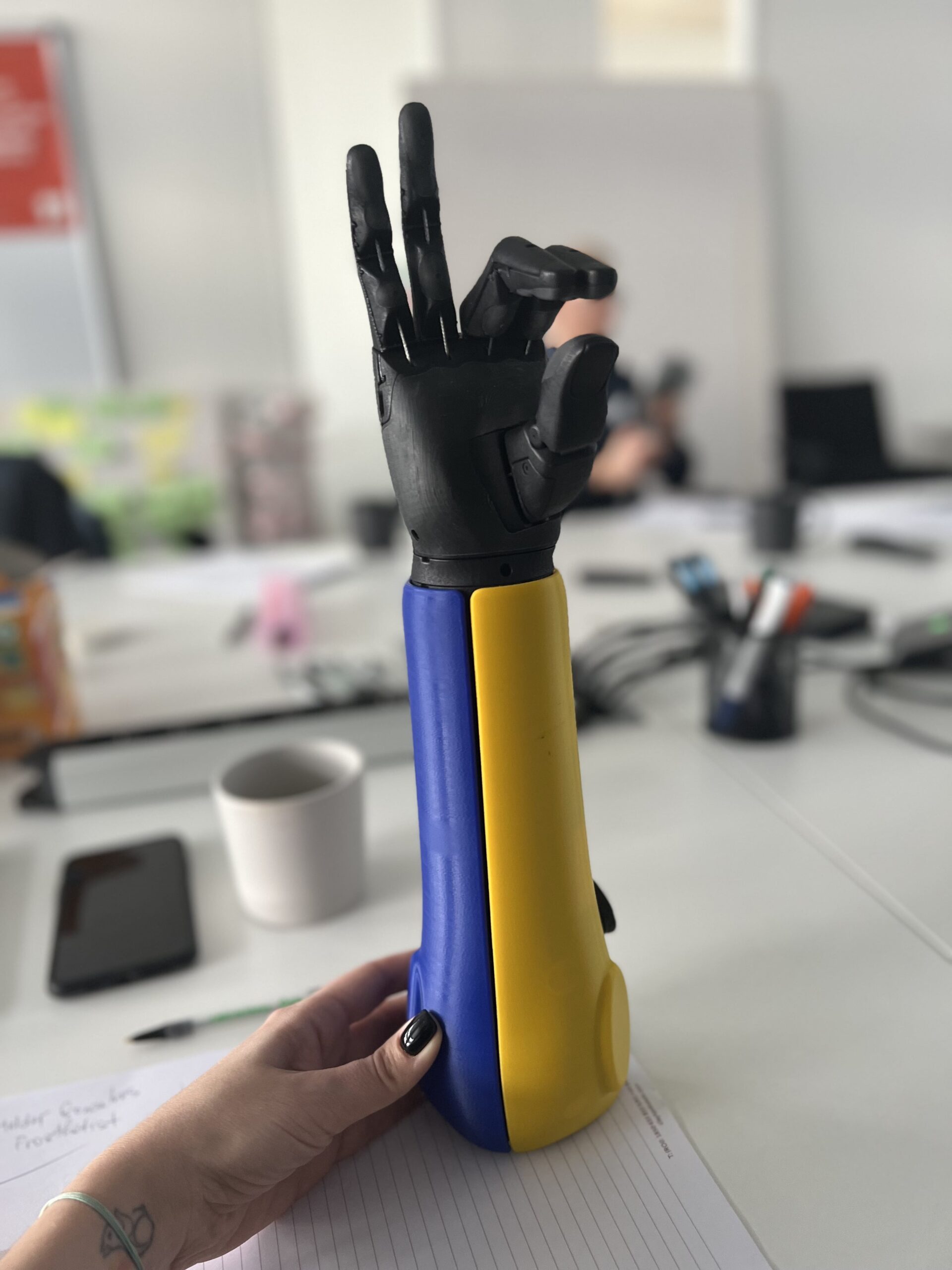 Ukrainian defenders Andrii Gidzun (30-year-old) and Vitalii Ivashchuk (24-year-old) are the first Ukrainian patients to receive high-tech bionic protheses from Open Bionics. Both were wounded and received mine blast injuries to their hands, which caused limbs amputation. Andrii was hospitalized in April 2022, Vitalii – in June.
In Munich, Andrii and Vitalii had the opportunity to test bionic protheses, to hold a glass of water, a pencil, and a small ball for the first time in months. It is difficult to convey the emotions of this moment in words. Both soldiers admitted that Hero Arms are easy to use, the principle of operation of the bionic prosthesis is clear and muscle memory takes over controlling the hand in a matter of minutes. The men will have their personal protheses ready within a few weeks.
Superhumans and Open Bionics collaborate for the first time but expect this partnership to be long-lasting. According to Joel Gibbart, founder and CEO of Open Bionics, his company's philosophy is to make high technology accessible to a wide range of people on a long-term basis. "Our first patients from Ukraine will receive protheses, which we call "hands of heroes". Therefore, this type is ideal for them," says Joel.
Hero Arms are bionic protheses of the upper limbs, known worldwide for their high functionality and bright design. The manufacturer of these protheses, Open Bionics, has an exclusive arrangement with Marvell comic book authors and provides protheses with heroic designs. The lightweight and versatile prothesis features a suite of light, sound and vibration signals to provide the users with feedback on the state of their bionic arm. Open Bionics opened an era of superpowers in the world of prosthetics. Thanks to an exclusive partnership with Superhumans and the financial support of Mastercard, this era has become available to Ukrainians with major limb injuries resulted by the war.
"Providing Ukrainians with super-technological opportunities for their lives – is the mission we are driven by while collaborating with Superhumans. Innovative and high-quality services are now important in all areas of life, and we are convinced that Ukrainians deserve the best of the modern technologies," says Inga Andreieva, General Manager of Mastercard in Ukraine and Moldova.

"The Superhumans team is dynamically moving in several directions: we are building a hospital and prosthetics laboratory, we are training specialists, also looking for the best technologies and expertise worldwide, and already are starting the first prosthetics. By the time the clinic opens, we plan to have the best team of trained medical specialists in place, as well as the formed queue of patients who need prosthetics and rehabilitation services," sums up the CEO of the Superhumans Olga Rudnieva.
Superhumans is a modern prosthetics, reconstruction, and rehabilitation clinic that will soon open in Lviv. Currently, the hospital is completing the equipment of the medical buildings. The project has been initiated by Ukrainian businessman Andrii Stavnitser.
Superhumans services will be free of charge for war victims, the hospital is funded by donors and partners. More information about Superhumans can be found at www.superhumans.com.
About Mastercard (NYSE: MA)
Mastercard is a global technology company in the payments industry. Our mission is to connect and power an inclusive, digital economy that benefits everyone, everywhere by making transactions safe, simple, smart and accessible. Using secure data and networks, partnerships and passion, our innovations and solutions help individuals, financial institutions, governments, and businesses realize their greatest potential. Our decency quotient, or DQ, drives our culture and everything we do inside and outside of our company. With connections across more than 210 countries and territories, we are building a sustainable world that unlocks priceless possibilities for all. www.mastercard.com
Підпишіться на e-mail розсилку Українського Спектру