IT Meets are one-day events that focus on various areas of the tech industry. They are aimed at facilitating the exchange of knowledge and experience, promoting productive networking, and fostering a culture of professional communities among representatives of the Ukrainian tech sector.
Over the past few years, the Lviv IT Cluster has organized closed meetings for tech professionals who are members of the Association. The launch of IT Meets is a logical continuation of the Lviv IT Cluster's efforts to unite tech community professionals and create a single platform for high-quality knowledge exchange. This year, eight IT Meets meetings are planned, covering various areas of the tech industry: Tech, Talent, Management, Product, Bizdev, Startups, etc. These meetings will take place both online and offline, and will feature not only specialists in various tech areas, but also recognized experts from related industries.
The first IT Meets event, IT Meets: Talent will take place offline in Lviv on March 17th. The event will focus on the new role of companies in times of uncertainty and cover topics such as working in turbulent times, establishing processes within the company, supporting employees, mental health, and the main trends in HR in 2023. The event is aimed at HR professionals, including Chief People Officers, heads of relevant departments, People Partners, Recruiters, Brand Managers, HR Marketers, HR Generalists, Community Managers, etc.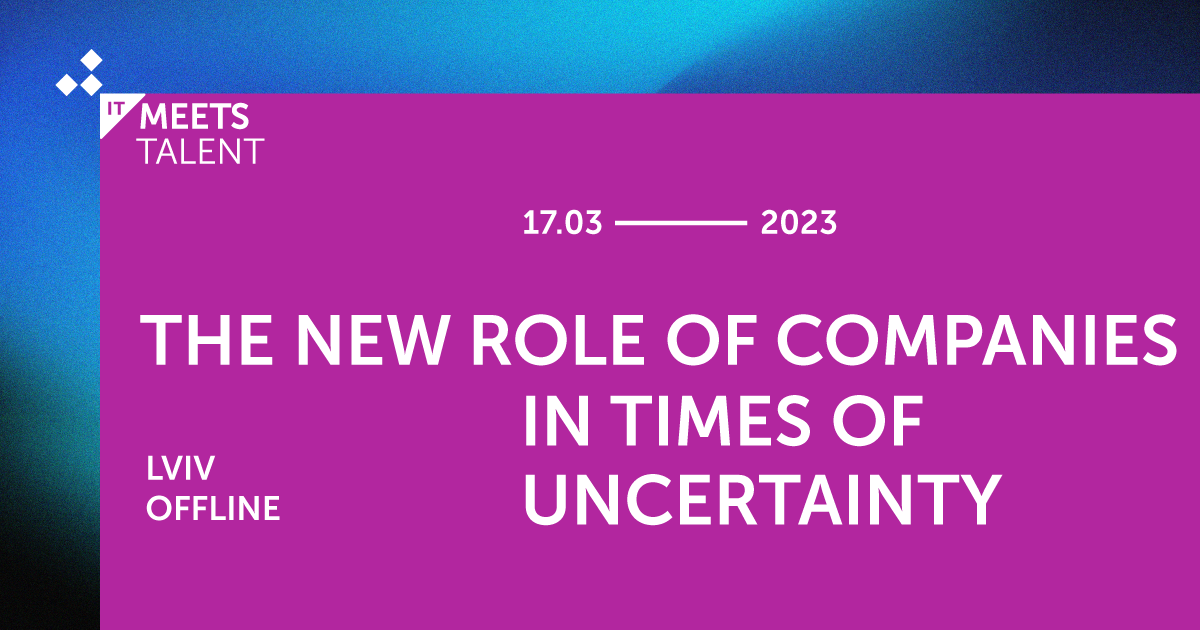 The speaker lineup includes:
Volodymyr Stanchyshyn, psychotherapist;
Yaryna Kliuchkovska, media trainer, communications consultant;
Roman Hapachylo, VP of Talent Management at Intellias;
Volodymyr Andrieiev, Talent Acquision Manager at Impressit, an active volunteer who supports million-dollar fundraisers.
"This year, the tech industry has shown an extremely high level of adaptability. Without HR specialists, it would have been much more challenging, as they work with the main value of our industry – people. That is why the first IT Meets event is dedicated to HR. Industry pecialists will come together to share their impressions of this year, discuss their experiences and learn from one another, exchange ideas on development strategies, and provide support to one another," says Lesia Mandzevych, Event Director at Lviv IT Cluster.

"The development of professional communities is a significant focus for the Lviv IT Cluster. For several years now, we have been working on developing professional communities among our member-companies. In these challenging times, we see a growing need for broader discussions and the exchange of experiences within the tech community. IT Meets is an important platform that not only brings tech professionals together in one place but also fosters an environment of like-minded people can support and understand each other's professional pains and challenges," adds Stepan Veselovskyi, CEO at Lviv IT Cluster.
The first IT Meets: Talent. New role of companies in times of uncertainty will be held in Lviv offline. Learn more about the event and book your ticket here.
The media partners for IT Meets: Talent: robota.ua, Happy Monday and Liga.net
Підпишіться на e-mail розсилку Українського Спектру