Seed Funding To Unlock Global Expansion Possibilities For Pioneering Drone Technology-Driven Commercial Service Provider
FarmFleet, a pioneering Ukrainian agribusiness optimization and emerging drone technology enterprise, has announced the successful completion of a pre-seed funding round and $550,000 investment, granting FarmFleet a valuation of $3.7 million.
The investment will be utilized to enhance FarmFleet's ability to broaden the opportunities for Ukraine's agricultural sector and the nation's farming community to perform operations on time and against myriad challenges, including inclement weather and limited resources amid the continued regional conflict.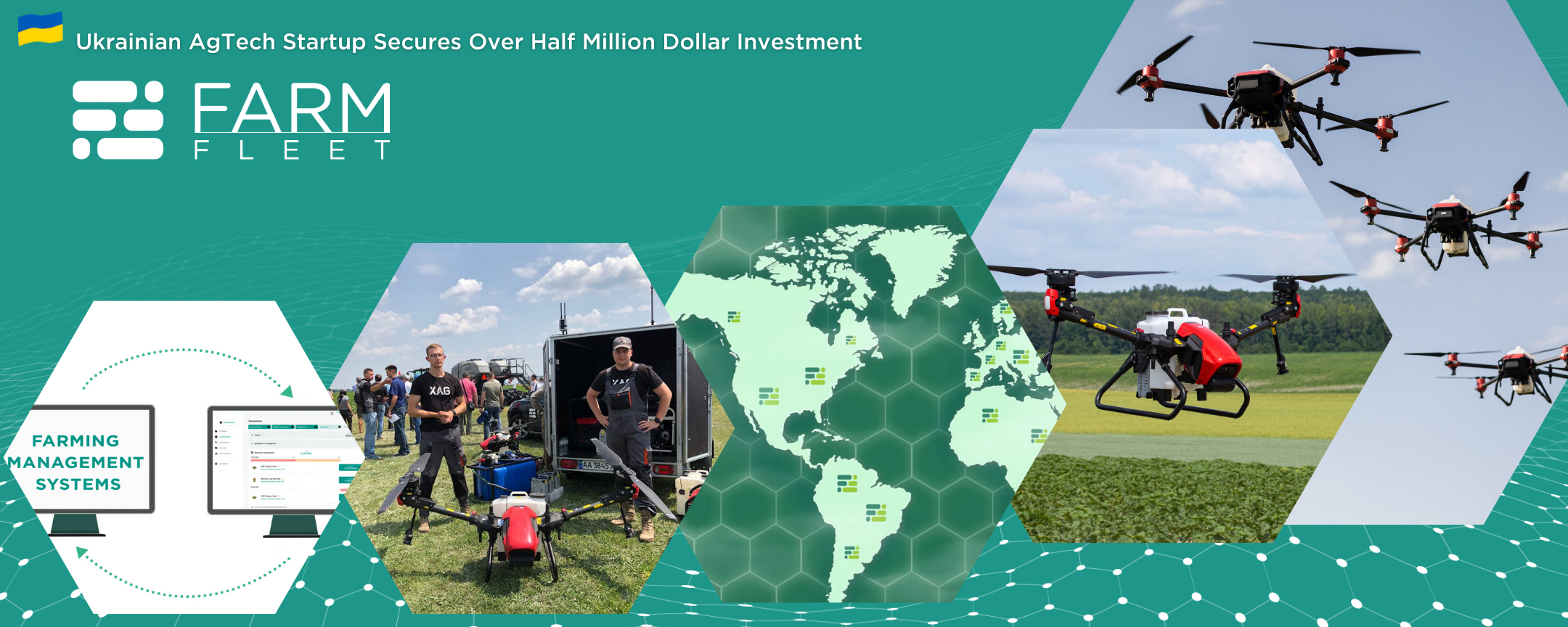 As the investment will also enable for FarmFleet the ability to export its distinct service provision model abroad, the company has announced that the United States will serve as the pilot international market for FarmFleet integration. Its founders suggest in establishing an American footprint, FarmFleet will be primed to revolutionize farming practices not only in Ukraine where the company is headquartered but also on a global scale in future, driving innovation, efficiency and security in the agricultural sector.
FarmFleet is an innovative online service and ERP system that unites the traditional and newfound demands of agricultural operations with 2023-era technology-borne solutions, applicable to farmers, small to medium sized enterprises (SMEs) and multinational corporations (MNCs) alike.
"Our mission is to establish a transparent and intelligent outsourcing market in agriculture, in doing so expanding opportunities for farmers to execute their operations efficiently and with exceptional quality", stated Fevzi Ametov, one of the founders of the project. "Intrepid investments in our capabilities unlocks significant possibilities for our growth within the Ukrainian industry, but also for the wider growth of the Ukrainian industry in a competitive global marketplace".
The only platform of its kind in the agribusiness sector to-date, FarmFleet is the end-result of strategic collaboration between cross-sector leaders in the Ukrainian marketplace, each boasting extensive experience in fields such as robotics, unmanned technology, agro-chemistry and 'ag-tech'.
"Our project embodies the essence of collaboration, as we strive to achieve continued advancements in the development of ESG-responsible pesticide products and other innovations sitting at the intersection of agro-chemistry and service provision. We firmly believe that progress in service-oriented agribusiness must be intertwined with the adoption of breakthrough innovative technologies," added Vladimir Gaplik, a co-founder of FarmFleet. – "By combining our respective expertise, we plan to efficiently create and implement new and exciting formulations, ultimately reducing pesticide usage in the process, conserving water resources, and fostering environmentally sustainable conditions for the agriculture industry to thrive."
FarmFleet is dedicated to cultivating a sustainable future for the agricultural sector at large. Through the application of drone sprayers and other farming robotics, the platform significantly reduces the consumption of plant protection products while mitigating fuel usage, water consumption, and CO2 emissions.
The timing of the seed funding and the massive potential for replicability of the service model, including FarmFleet's expansion beyond Ukraine's borders, is no doubt significant.
Recent studies suggest the GDP of Ukraine in 2022 decreased by about one third when contrasted with 2021; and the harvest of grain and oil crops decreased by roughly 40%.
"As Ukrainians, our mission is to underscore the significance of our country's experience and the knowledge of Ukrainian farmers in the adoption and dissemination of cutting-edge technologies and innovative farming practices. Even during these challenging times, Ukrainian farmers have been at the forefront of global trends, highlighting the importance of robotics in agriculture," added Valerii Iakovenko, a co-founder of FarmFleet and a world-renowned manufacturer of Ukrainian drones and robotics technologies. – "In addition to its investment impact on Ukraine's agricultural sector, FarmFleet's foray into the USA represents a significant milestone in the company's global expansion strategy. FarmFleet aims to leverage Ukrainian innovation and expertise to enhance global food security".
About FarmFleet:
FarmFleet is a pioneering agribusiness optimization and emerging drone technology enterprise and service provider based in Ukraine. FarmFleet is a partnership business of the Ukrainian group of companies DroneUA, specializing in the integration of innovative technologies in the fields of robotics, energy-independent solutions, and software.
FarmFleet optimizes business processes within drone sprayer services and agricultural service industries; its comprehensive platform connects farmers and service companies with external contractors, streamlining operations and increasing efficiency while emphasizing sustainability and environmental stewardship.
With a vision to enhance global food security for all, FarmFleet leverages Ukrainian expertise and cutting-edge technologies to shape the future of agriculture.
Learn more here – https://farmfleet.io/en
Підпишіться на e-mail розсилку Українського Спектру