The coronavirus crisis has irrevocably changed consumers' buying habits. Whereas 5 years ago businesses were thinking about how to lure customers from offline to online, now even conservative customers are shopping online.
We at Whiskey Stones also couldn't pass up the moment to bring online sales to new foreign markets. How we started selling our stylized whiskey-themed gifts overseas with minimal risk, read on.
First, let's define our frame of reference. E-commerce is experiencing steady growth around the world, and Ukraine is no exception.
According to Statista analytics data, during 2014-2019 the volume of e-retail in the world grew by more than 2.6 times. And the COVID pandemic has added even more acceleration, with online sales exceeding $4.2 trillion in 2020 (up 25.7% from 2019).
The growth trend is so positive that it allows us to make a prediction: 95% of the world's purchases will come from e-commerce in 2040. We cannot confirm these predictions, but all experts agree that the market will only grow. And this means that Ukrainian online stores will increase both nationally and internationally.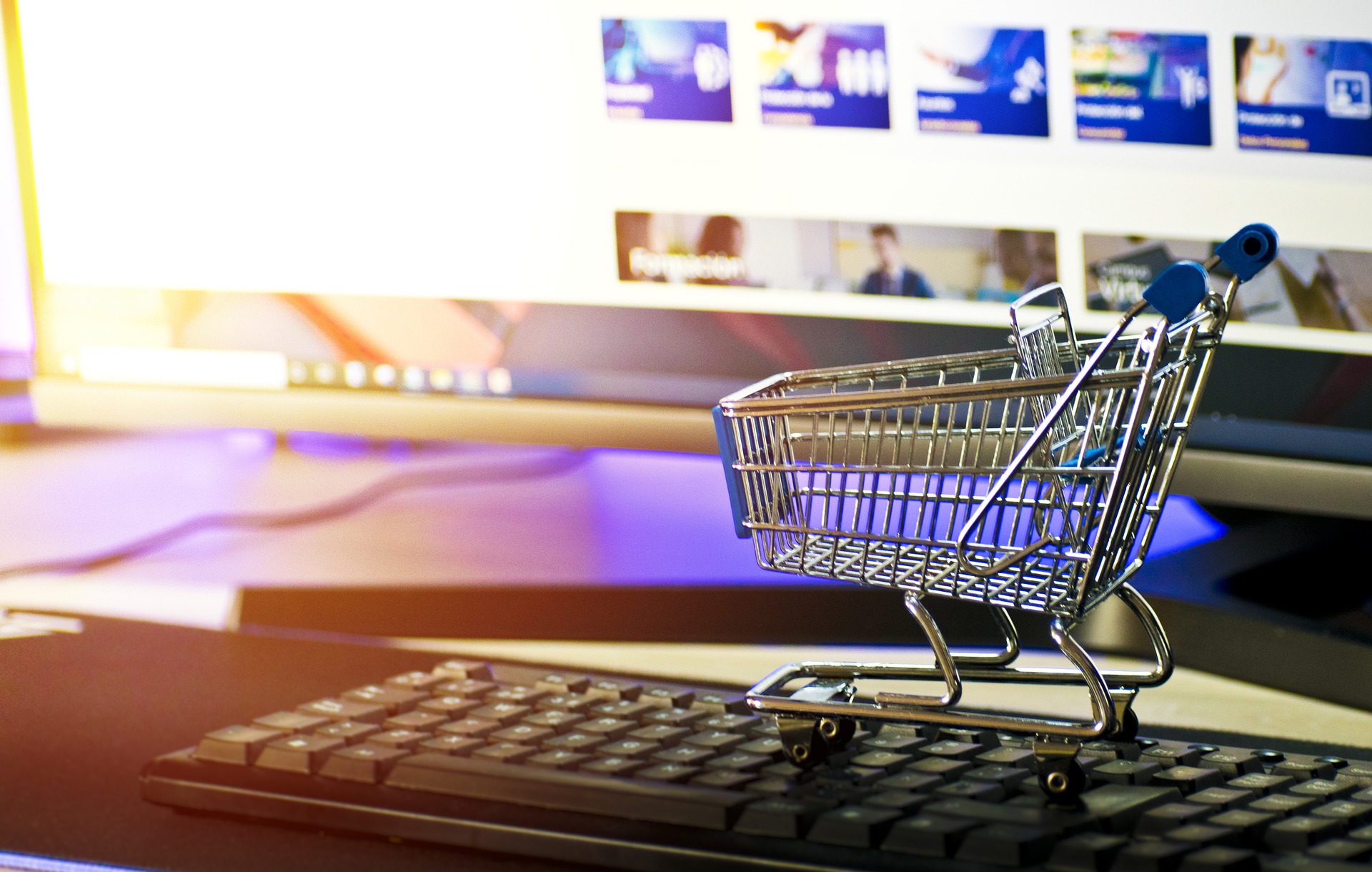 Where to look for expansion?
To remain a competitive business, it's not enough to focus on one sales channel – everyone has boundaries to scale. Online store owners must be on the lookout to stay afloat.
Expand your horizons – look for new sales channels.
As is often the case, businesses find one sales channel that works well (like Instagram ads) and stop there. Sales are coming in, and that's fine.
But focusing on one channel is a shaky strategy. Search engines' requirements for page ranking, terms of placement and advertising on marketplaces, and consumers' buying behavior are constantly changing. The more sales channels you have, the more confident you stand and the better opportunities you take advantage of.
Internal marketplace: there are points for growth.
It's good if you have an integrated approach set up. The customer was introduced to the online store in the social network, then by a query in a Google Shopping search engine offered him the product, and the order can be placed already through the site.
There are many such combinations. And the more present you are online, the better the chances are that the customer will see you and get on the path to purchase.
Analyze how your business is represented in each of the channels: Google search advertising, SEO promotion of the site, targeted advertising in social networks, email marketing, marketplaces, promotion through the media.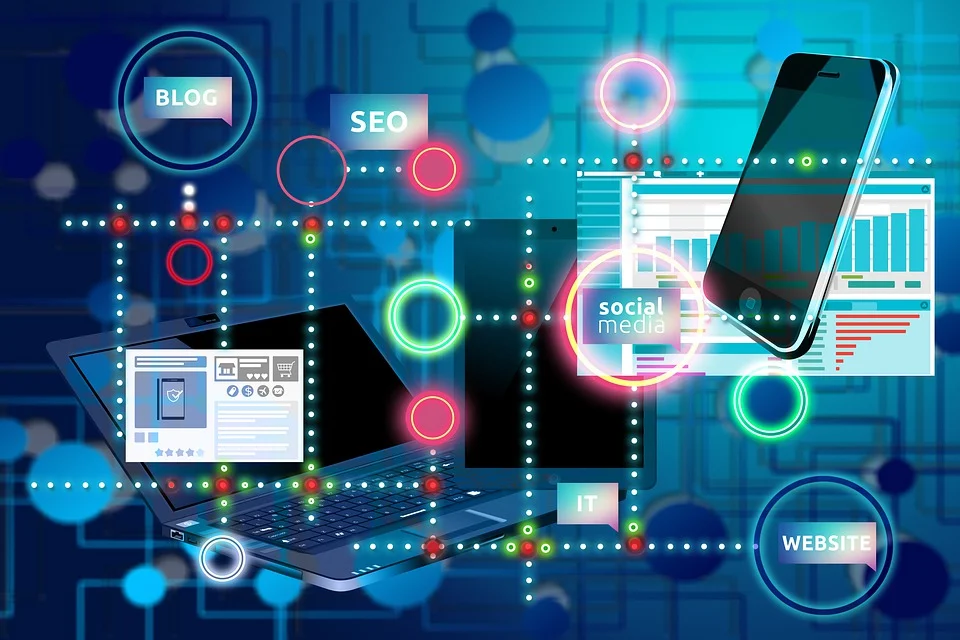 Gaining new levels – exporting goods.
With globalization, entering the international market has become easier and more accessible even for small businesses. Of course, competition in foreign markets is tougher, but if your business demonstrates maximum innovation and efficiency, you will be a competitive player.
Don't forget to work on assortment and service.
Interesting and quality merchandise is what business is all about. Form unique product lines, look for responsible suppliers, train your staff to communicate properly with the customer, and provide quality product packaging.
In the pursuit of advertising coverage, remember: what the customer gets from the purchase and whether he will be satisfied with your service depends on whether he will come back to you in the future.
Export Course: How to Prepare
If you do choose to go international, you need a strategy and preparation. Before you start, we would advise you to check the list below.
1. Internal audit.
The first thing to do is to understand how ready the company is for the new line. Assess whether you have enough resources: production capacity, finances, and manpower. Tapping into other markets may require expanding staff, training staff, or raising additional funding.
2. Analyze the markets that are of interest to your business.
First, consider the markets from which you have received inquiries in the past. Also of interest are nearby countries, and whose transportation and logistics are relatively easy. One of the most important criteria are the standards and requirements of the country: does your product/service fit with them?
It will be easier to work in markets with similar cultural values, but this is not the case for all products.
3. Research what competitors are already in the market.
Researching your existing supply will help you assess how many competitors you will have in your new market and what terms they offer. This step will help shape the pricing policy of your online store and identify the advantages over your competitors.
For us at Whiskey Stones, such a unique selling proposition was the personalized approach of having each order individually engraved.
4. Consider logistics.
Logistics and transportation can be one of the biggest cost items in pricing. The success of your trade depends on the organization of logistics: if the customer has to wait several times longer for the goods, he will choose your competitors.
Look for a reliable transportation company or use the services of logistics operators who will advise on the organization of delivery.
5. Re-assessment..
Now you have more data, and you can make a comprehensive assessment of the situation. You can do this with a SWOT analysis (opportunities, threats, strengths and weaknesses) or a PEST analysis (political, economic, social and technological factors).
Be as realistic as possible in your assessment. You can even be pessimistic in order to correctly predict the level of future sales.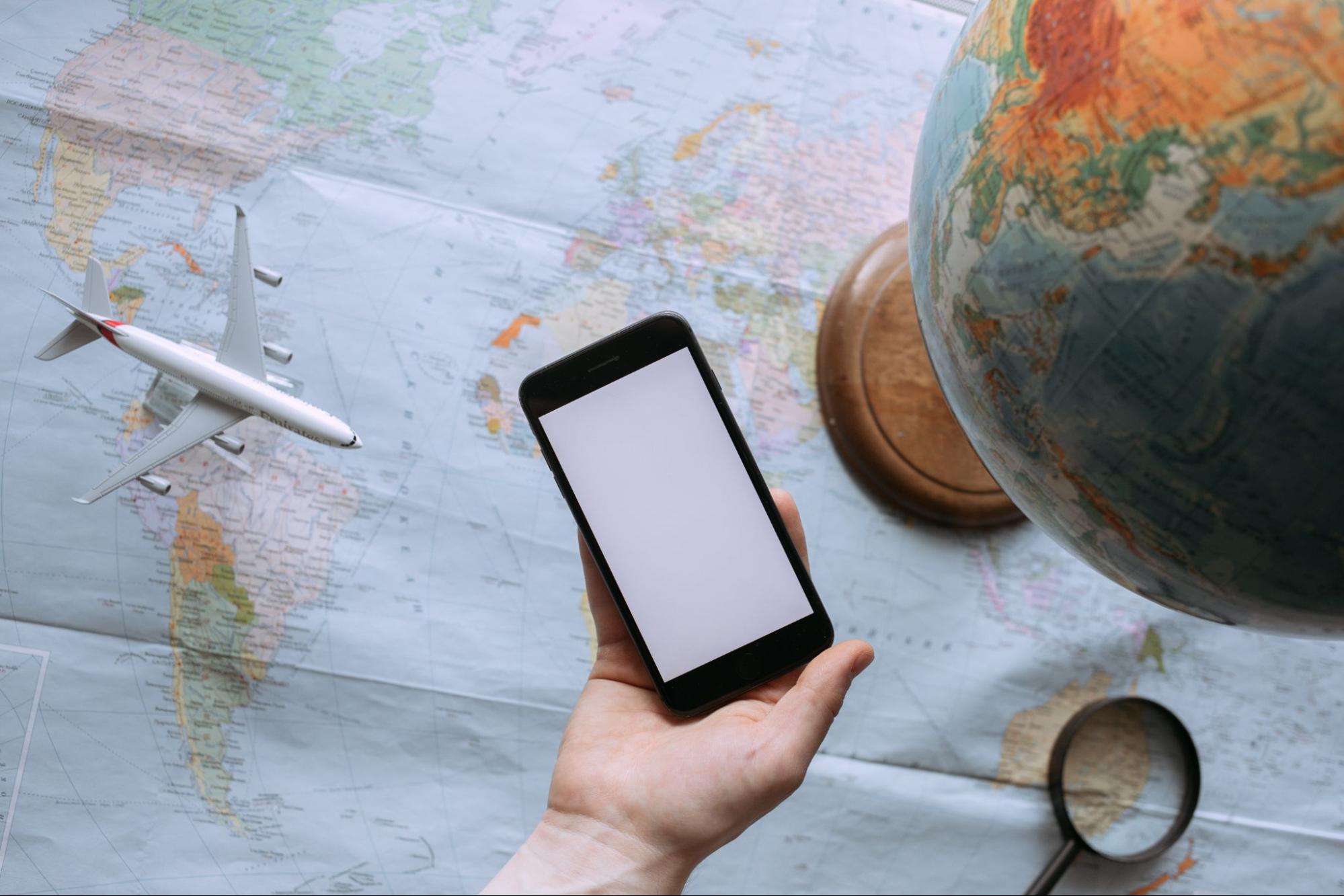 Our first overseas sales.
The tipping point for us to go international was the spring of 2020. The limitation and uncertainty of the impact of lockdown on business encouraged us to look for new opportunities. Plus, we'd been thinking for a long time about how to enter the Western market.
It was a good option to keep the company growing and the team working on the project. In different places physically-whether from home or from an empty office-we began to shape the system and transform the business to expand sales channels.
At the time, we hadn't even considered creating our own international version of the online store. We planned to put the products on a global marketplace. Their advantage is the need for minimum investment: you don't have to develop and launch a separate site, invest in its advertising and look for ways to promote it. And the risks are minimal.
Next came the question of choice, and we started with Etsy. According to Hubber research among suppliers, it is the most popular foreign marketplace.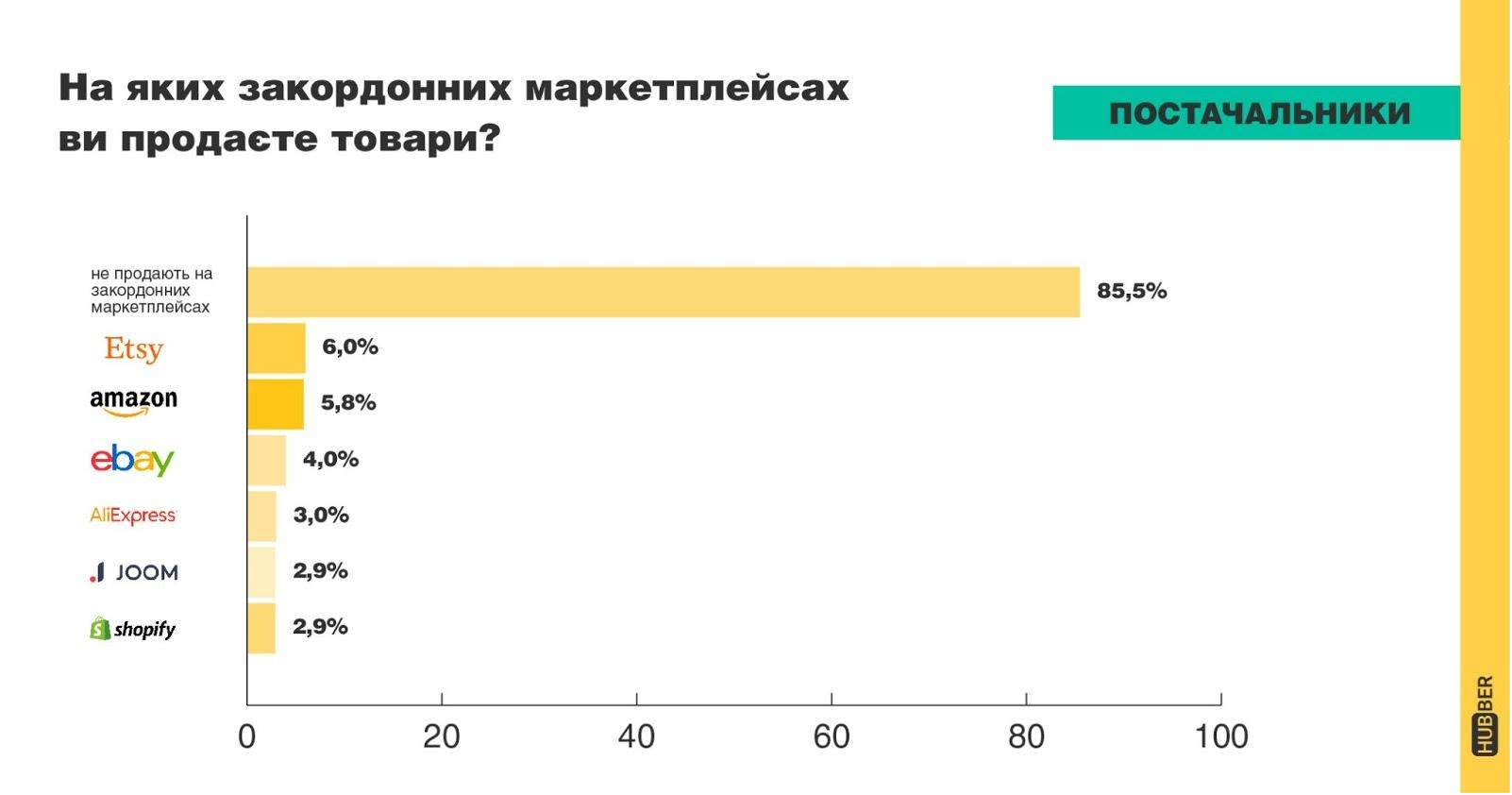 The main feature of Etsy is that the platform only works with small manufacturers, hence you won't need to lug around big retailers. The maintenance of the store is free, you only have to pay for the placement of each product and a percentage of sales. Of the disadvantages are not always clear algorithms issuing positions.
On Etsy, as on other platforms, it's necessary to fill the product card as much as possible: make high-quality text and photos, spell out the necessary tags. This is primarily a concern for the client, so that he does not have to ask additional questions. You can set up advertising – it will add views to your store.
There are pros and cons to working on the Marketplace, but on the whole we are satisfied. The main flow of foreign sales now comes from Etsy.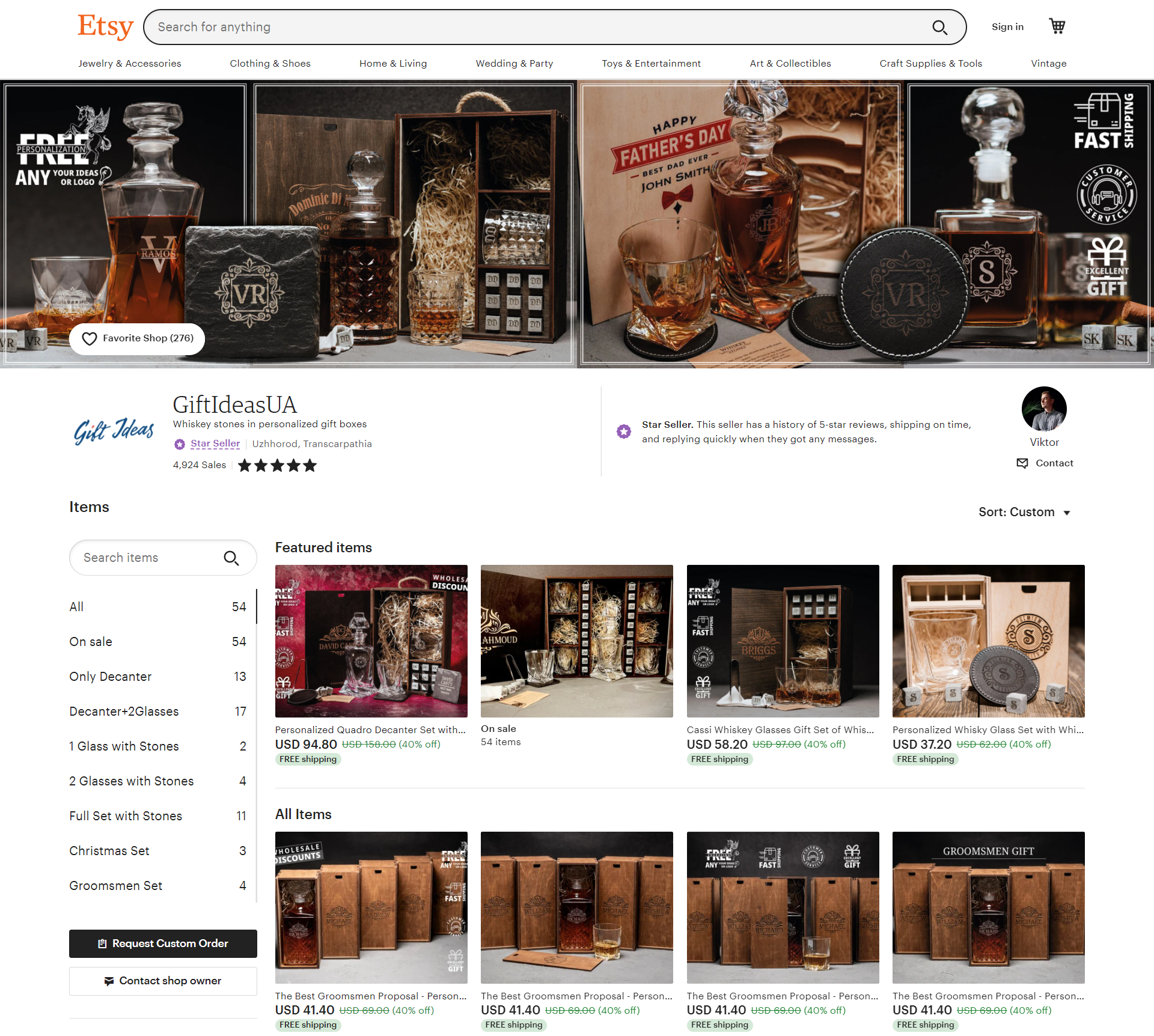 We also launched sales on Amazon, still testing and exploring that platform.
Results and problems
Within a year of entering the foreign market, Whiskey Stones and 4HoReCa (another brand of ours) products have already been purchased by over 3,000 people around the world. In terms of financial turnover, exports had already overtaken domestic sales at that time.
Now we already have over 5,000 sales of Whiskey Stones products overseas, and the main flow comes from Etsy. We have already achieved Star Seller status for fast customer service and timely delivery of kits.
The most frequent customers are from the US, Japan and Hong Kong. If we talk about the division of orders into corporate and private, it's 50/50.
The tradition of giving whiskey as a gift is very common abroad. Our sets are bought for New Year, Christmas, Father's Day, coming of age, graduation or weddings. It was on Father's Day in June 2020 that we went on Etsy and set up an ad. The timing was perfect, and sales skyrocketed.
Working with foreign clients is really easy. I would especially like to note the simplicity of dispute resolution. Clients are ready for dialogue, disputes can be discussed and agreed so that everyone is satisfied.
The experience came with the passage of time, and of course, not everything was smooth sailing. At the beginning, when we had no experience with foreign delivery, we were worried whether the order would arrive on time.
Another problem was the packaging. It was necessary to think over such a correct packaging of the sets, so that the fragile goods would get safe and sound thousands of kilometers away.
Personalization has also made sourcing more difficult for us. Because each set is produced with a custom logo or signature, we cannot stock products for quick shipment. Therefore, we can take a limited number of orders at the same time.
The task that we set for ourselves was not to lose the main values ​​of the brand in the process of scaling. In Whiskey Stones it's quality and customer focus. We are growing at a rate that does not compromise product quality and customer service.
Now our project is already 4 years old, we work on the Ukrainian and foreign markets. We are preparing many updates for 2022, in particular, we plan to form a full-fledged brand.
There are still plans to launch the brand's Instagram page in English for sales worldwide, but this still needs time.
We are proud that Whiskey Stones can offer customers a complete package: concept, in-house production, custom design. This allows us to end up with a satisfied customer who holds in his hands the embodiment of exactly the desired product.
Підпишіться на e-mail розсилку Українського Спектру